Thank you for subscribing to Dishtillery! Every last day of the month, we send out a newsletter with a food essay, recipes, gardening tips, and food poetry or humor. Starting in August, we will be adding an additional newsletter on the 15th of the month for paid subscribers featuring more food writing, interviews with, and recipes from guest chefs, winemakers, mixologists, gardeners, and other friends who work in food, drink, and flowers.
About us:
We're a family that thinks about food. We ruminate about where and how it grows, who makes it, and how it can help heal—even when the hurt seems insurmountable. We learned this from life along the way, which hasn't always turned out the way we planned. But first, we intuited it from our mother, a locavore before there was such a thing. During road trips when we were growing up and budgets were slim, our parents would take us south to places like North Carolina (during hurricane season) and north to Montreal (in blizzard season). We never minded getting caught in the weather as long as we could eat well. Not necessarily dine, but truly sample the foods from the region, those that grew there, or were caught there, or were made there.
Those lessons became ingrained. Both of us fell into food careers, Betsy as a host at Martha Stewart Sirius Satellite Radio, and Jen as a dining critic and food writer at various publications in Miami and beyond. Now, living in separate states—Betsy in Ohio, Jen in Florida—during some of the most trying times we have ever seen, we strive differently. At The Portable Garden, Betsy is a floral artist and event specialist. Jen is a poet, lifestyle journalist, and author of cookbooks, guide books, and volumes of poetry.
But we fall back on common ground. And distance is nothing to travelers who share the same path, even if one of those paths has lake-effect snow and the other has tropical-storm-force winds. Now, both wives and mothers, dog owners and cat fanciers, art lovers and readers, we've joined our overlapping interests to embark on a brand-new journey that makes stops at our collective past, present, and future. And we're bringing along some friends. Welcome. For all seasons and reasons, we're glad that you're here for a bite of Dishtillery.
BK / JK
DISH: The State of Great Tomatoes
The late folk-country singer John Denver used to croon about how there were only two things that money couldn't buy: true love and homegrown tomatoes.
Although they probably seemed like truisms at the time, neither one of those proclamations is at all accurate today. You only have to watch a few episodes of 90 Day Fiancé to realize that love seems like an easily quantifiable—or at least justifiable—purchase.
But even back in the day, in our tomato homeland of New Jersey, you could certainly procure homegrown fruit—even if you were actually tending your own vines. You just had to know where to get it.
Betsy and I are the offspring of a tomato connoisseur: our father, Barry. His great fortune was to marry our mother, Naomi, who loved to garden and was willing to plant several cultivars after every final spring frost.
As summer progressed, she also scoured the local farm stands for their varieties. Long before it was discussed in chefs' kitchens, written in cookbooks, and talked about on podcasts, she understood microclimates, how a different patch of soil on a hill where the nighttime temperature cools by a degree could change the way produce tastes.
As a result, we weren't raised on the radio; we were brought up on Big Boys and Early Girls, all manner of beefsteaks and cherry tomatoes, and especially the native-to-New Jersey Ramapo and Rutgers, both developed at Rutgers New Jersey Agricultural Experimental Station (NJAES) in the 1930s. These latter two were among the ones considered the "classic" Jersey tomato, and the Rutgers is related to the tomato co-opted for Campbell's condensed soup. In fact, it's thanks to Campbell's Soup Co., who discovered some saved seeds in 2008, that the long-lost Rutgers has been revived via the Rutgers NJAES Rediscovering the Jersey Tomato Project.
Betsy and I had several chores in the garden, only one of which I relished: picking the ripe tomatoes. The stringent odor of a vine releasing its prize still takes me back to the feel of running through the sprinkler irrigating freshly cut grass, the sound of a ball hitting wood from the Little League that was only a couple of blocks from our house, the occasional glimpse of a mother skunk and her babies gingerly skirting the edge of the lawn at dusk.
The other tasks included watering, weeding, and salting slugs. If you've never had plants to protect from slugs, who eat every green thing in their sights, allow me to paint you a slightly more appetizing picture of osmosis: A Gummi bear dissolving in a little pool of Sprite.
We had one other self-appointed mission, and that was to catalog the tomatoes our father ate so that he could pinpoint the vines and farm stands that produced the most satisfactory fruit: the ones with the perfect ratio between sweet and acid, whose tender skin gave way easily to glistening flesh without a hint of mealy disintegration. We watched every new tomato unfurl under the knife with voluntary fascination, like Grandpa Joe eyeing Charlie Bucket unwrapping a bar of chocolate. Would this be the golden ticket of the tomato state?
It became a game, but he never declared a winner. So recently, I called our folks to find out what they remembered about planting and hunting tomatoes. Our mom last attempted to grow heirloom tomatoes in a pot only a couple of years ago, but the chipmunks kept helping themselves, nibbling here and there. She eventually gave up. Our dad now takes it upon himself to haunt the stands, our mom in tow to give approval.
But which is Dad's favorite?
I read him the names of all the tomatoes that "were either bred, or introduced in New Jersey," according to the Library Seed Bank, who has established The Authentic Jersey Tomato Seed Collection. He remembered many, which triggered juicy slices of the past. The Jersey Devil, for instance, a paste tomato, gave him such a sensory memory of passing by a ketchup factory on a humid summer day, that he's never been able to eat a tomato-based salad dressing. Then I got to an heirloom, Purple Brandywine.
"Oh, terrific! Terrific," he said. "Purple Brandywine—now that's a tomato." Perhaps he does have a favorite, after all.
This year, our folks are already out searching for fresh produce, masked and taking precautions, as relief from shelter-in-place boredom. They say everything looks like it will be in a little late, thanks to the pandemic and the weather. They're especially appreciating the heirlooms that are coming in from Florida, so I ship them whatever I can find. I guess the tomatoes don't need to be quarantined, as I would be were I able to visit them. It's a very small consolation to send them fruit instead of family, but that's all I can do.
JK
TILL: The Besty Bloody Mary
About XX years ago (no, I won't say how many), I had the time of my life during a semester in London—something inconceivable for so many students right now. In addition to the, ahem, art, and history I was appreciating, I also discovered a true passion for a perfectly mixed Bloody Mary. One of my roommates, who was from Dallas, insisted it was the blend of citrus that elevated it from good to great. I believed her in this—and also, unfortunately, in her opinion of shoulder pads. She remains the only woman I ever saw with the pads attached to her bra straps. Oh, how I do/do not long for the '80s. So this rendition I dedicate to her. It makes 6 cocktails, or 4 if you're thirsty. For us, it made 4.
3 cups tomato juice
Juice of 1 lemon
Juice of 1 lime
¾ tablespoon store-bought horseradish (as in NOT freshly grated, seriously?!)
¾ teaspoon Worcester sauce
2-3 big pinches celery salt
Healthy pinch kosher salt
6-10 dashes Tabasco sauce (flavor to taste)
Ground black pepper to taste
Mix and chill.
Add ice to glasses. Add 1½ ounces vodka to each glass. (Use 2 ounces if you're serving 4 instead of 6).
Fill with Bloody Mary mix and garnish your choice of olives, lemon, lime, cherry tomatoes, celery, pickled okra, pickled anything—but not bacon unless you're my friend and former radio producer, Jon. In that case, pig out.
BK
Feeling lazy? Or just want to try something a little different? Check out this mix, Natural Blonde Bloody Mary, that John Aquino, a mixologist friend of mine from Charleston, bottles from Valencia Gold and Carolina Gold tomatoes.
JK
DISH: Recipes
On the passing of director Joel Schumacher, who made one of my all-time favorite movies, The Lost Boys, I reread an old interview with him in Vulture where he was talking about the actors in Batman Forever. He said, "Tommy [Lee Jones] is, and I say this with great respect, a scene-stealer. Well, you can't steal the scene from Jim Carrey. It's impossible."
And that is one way to describe the tomato as an ingredient—it is the Jim Carrey of the culinary world. You might think it's playing a lesser role than other components, but it always makes its presence felt. Sometimes, even when you believe that there's another star, like in Betsy's "Perfectly Flexible Pasta," the tomato becomes the standout. Other times, whether you're making Betsy's "Balsamic Tomato Jam" or "Christina Seillan's Easy Summer Tomato and Goat Cheese Tart," you'll know it's the real feature all along.
JK
Perfectly Flexible Pasta
For the meat averse, skip the pancetta, but then you may need more olive oil. You don't want the shallots to stick. But vegans be warned: There's already butter and cheese.
3 ounces pancetta, sliced or diced
1 tablespoon olive oil
2 shallots, chopped
1½ quarts cherry tomatoes (enough to cover a 12-inch sauté pan)
Kosher salt and black pepper to taste
1 pound orecchiette (substitute any bite-size pasta)
Several handfuls baby spinach (substitute a smaller amount of mild arugula or even less basil)
2 tablespoons butter
2-4 ounces Locatelli, Parmesan, or other grated Italian cheese
Put a large pot of salted water on to boil.
In a 12-inch sauté pan over medium-low heat, cook pancetta, tossing occasionally until crispy. Remove from the pan and set aside.
Add oil and shallots to the pan. Lower the heat if they start to brown. Season with salt and pepper to taste. Cook 3-4 minutes, then add whole cherry tomatoes. Cook over medium to medium-low heat for 8-12 minutes, shaking occasionally.
Meanwhile, add orecchiette to boiling water and cook until almost done. They should still be a little chewy. Reserve 1 cup of pasta water when draining.
When the tomatoes start to sweat and burst, add drained pasta. Add the spinach and at least ½ cup of the pasta water. Toss together until most of the water is gone. Then add a bit more. Stir in the butter and toss with some of the cheese. Add the last of the pasta water for sauciness. Mix the pancetta back in and finish with more cheese and pepper to taste.
Serves 6 as an appetizer or 4 as a main course.
BK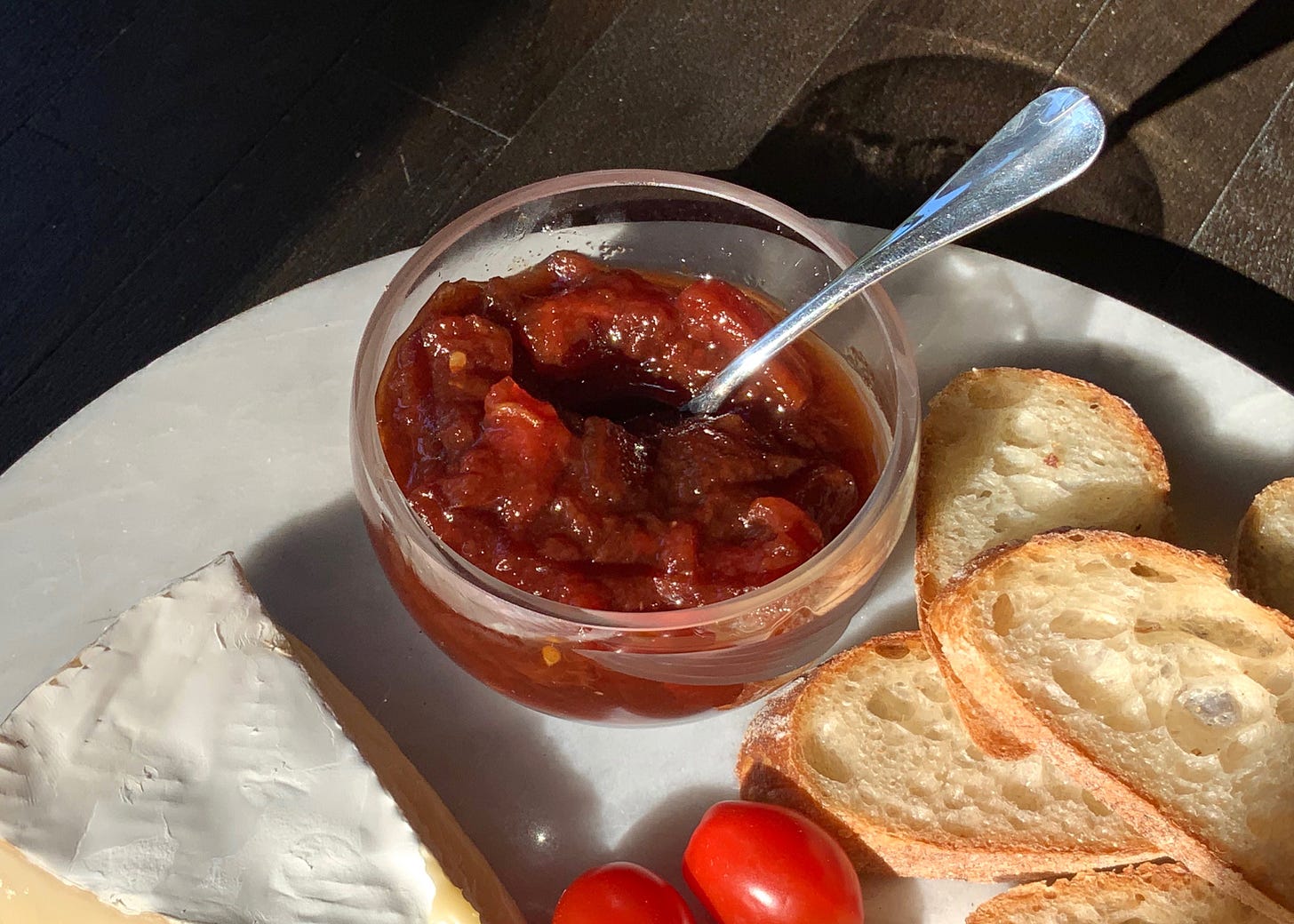 Balsamic Tomato Jam
When you want tomatoes, but maybe the best of summer hasn't ripened yet, this method works with whatever is available from the store or farmer's market. I think Dad will approve. It's easily preserved, too! Serve with chicken, fish, or cheese.
2 pounds fleshy tomatoes, peeled and seeded (see method below)
1 cup granulated sugar
¼ cup balsamic vinegar
Pinch or two of salt
2 big pinches red pepper flakes
1 fresh or dried bay leaf
Chop the tomatoes. Combine with all other ingredients. In a saucepan, bring to a boil, then lower to a steady simmer for 30-40 minutes until most of the liquid is gone. Jam is ready to eat, preserve, or keep in the refrigerator for up to two weeks.
How to Peel and Seed Tomatoes
Put a large pot of water on to boil.
Cut a shallow X in the base of each tomato.
Drop the tomatoes in briefly, no more than 30 seconds, until the skins start to curl. Drain the tomatoes and place in an ice bath. Cool to handle.
Peel off the skins.
Cut the tomatoes in half horizontally.
Remove the seeds and core.
Strain the liquid and save it for soups or stews, but toss the seeds—and definitely not in your compost pile, where they will sprout. You're welcome.
BK
Christina Seillan's Easy Summer Tomato and Goat Cheese Tart
The Seillan family is a multigenerational winemaking powerhouse that, like Betsy and me, believes in the soothing properties of good food and drink. Pierre Seillan, sixth-generation vigneron for Vérité (Sonoma County) and Château Lassègue (Saint-Émilion), works with his daughter Hélène, who is the Assistant Winemaker at Vérité and his son Nicolas, who is also a vigneron and Vice President at Château Lassègue.
As a family, and with Jackson Family Wines (who owns Vérité and co-owns Chateau Lassègue with the Seillans), they are keenly focused on the continuity of the estates, whether it be in Sonoma or Bordeaux. "At Vérité, I believe it is my duty and responsibility to keep the signature that my father created with Jess Jackson 20 years ago," Hélène says.
Nicolas agrees, stating, "My father taught me to observe and respect nature, and to work with integrity and perseverance. From a very early age, he trained me to produce wines that reflect their origins, by listening to your instincts, and staying close to your roots."
Pierre sums it up: "We all work toward the same goal with the same voice."
That philosophy extends even to the kitchen, where Nicolas' wife Christina put together what she calls this "no-measure recipe." It's ideal with a glass of 2016 Les Cadrans de Lassègue Saint-Émilion Grand Cru.
JK
Thaw a length or circle of puff pastry out in the refrigerator (optional: make your own dough). Remove from the refrigerator.
Preheat the oven to 400°F.

Brush the dough with Dijon mustard.

Slice the tomatoes, remove the seeds, and pat the slices dry. Line the dough with tomatoes. Add rounds of goat cheese. Season with herbes de Provence and sea salt to taste.
Bake for about 20 minutes. Slice and serve.
CS
TILL: Planting Season
I was watching a Facebook Live feed one afternoon, courtesy of The Betsy-South Beach, a lovely boutique hotel in Miami that's not named after my sister, but might as well be for how much I love it. The Betsy is very invested in all the things that make life worth living, in my opinion—fabulous food, poetry, music, art. (Check out their Facebook Live and Zoom programming in place of in-person events.) That afternoon, the featured guest was Tamer Harpke, of Harpke Family Farms, who participates in The Betsy Farmers Market.
I had tuned in right when Harpke started discussing the Everglades tomato, a tiny naturalized variety. The fruit is smaller than cherry tomatoes, more miniscule still than grape tomatoes, about the size of large thumbnails or nickels. And even though it's indigenous to South America, it likes South Florida a lot—so much so that a single plant could dominate a garden plot. But it's also a good producer, so that's not necessarily a bad thing. The lesson that I gleaned, along with some seed-saving techniques (see below), is to consider first the region before you choose a cultivar. In other words, I'm not planting the Ramapo and Rutgers in my garden here in Miami, and especially not now, when only tropical fruits like this kind of heat.
For most of us, though, it's past time to plant if you want tomatoes this summer. But since COVID-19 is keeping a lot of us hanging around the house and looking at the earth for entertainment and distraction, there's still plenty of time to try growing a few. Just remember that tomatoes need to be staked, caged, or trellised. I'm waiting for cooler temperatures to plant mine, but I've already recycled a wrought iron panel from the original door of my house (a Tudor built in 1924, which is historic for Miami) to save for vines.
If you live in an apartment or condo, try some potted cherry tomatoes on a balcony, where you can stake them around railing that already exists. While some varieties take about 100 days to bud, fruit, and ripen, others do it in as few as 50-60 days. So if you're just getting started now, look for early-ripening tomatoes from Laurel's Heirloom Tomato Plants like Black Cherry, Gardener's Delight (a.k.a. Sugar Lump), Sun Gold, Sunrise Bumbleee, or Super Snow White. Plant them all if you can, for a gorgeous sunset-hued bouquet of fruit when the ripening arrives. Laurel ships plants ready to transfer to your raised beds or containers as soon as they arrive, so take a look at the inventory while she still has some.
JK
How to Save Seeds
Every time you eat a fruit or a vegetable with a pit or seeds, you're looking at potential new plants that will produce. It's not always as easy as that—some fruit trees are grafted to ensure that they're fertile and disease-resistant, among other reasons. But for something like tomatoes, seed-saving is simple and effective. Instead of throwing out the pulp inside, throw it in a jar to ferment, then after a few days separate it from the seeds with water. Will Bonsall's advice on the Chelsea Green Publishing site is a great resource for this and other seed-saving techniques.
JK
DISH: Poetry
This poem echoes the essay above, about our father and his love for tomatoes, and about our mother and her garden. I wrote it after one of those sojourns to a farm stand, after our parents moved from the home where Betsy and I grew up in Livingston to a house near the Delaware Water Gap. Dare I say that the tomatoes were even better out there?
JK
Tomatoes
After breakfast of coffee and sliced tomatoes
—grinds on his shirt, seeds on his pants—
every day my father drives to the farm stand
where he cradles more of the fruit, each red cheek
plump with the weight of the summer sun,
divining the possible geysers of juice

held richly under the skin like oil (juice
of the earth). My father likes his tomatoes
absent of flesh, the insides turned into a sun-
spun pulp he drinks so fast he pants,
his blood sugar rising in a blush to his cheeks,
the fix almost more than his body can stand.

In our backyard in New Jersey, stands
of tomatoes, encouraged by the twin juices
of clouds and compost, blossomed—my mother's cheeks
under praise. She raised five kinds of tomatoes,
three kids and two dogs until the husky, panting
on the lead line, dug holes to escape the sun

and exposed the roots of the plants, spelling sun-
down for the garden. My mother couldn't stand
the waste and installed still-green fruit among the pants
and shirts in the utility room. Inhaling the juice
of spin-cycle, all autumn bleached tomatoes
jiggled in the pantry next to the Red Cheek

apple juice cartons; they danced cheek to cheek
with aloe plants on the windowsill, sun-
stained hardly at all by the winter light. Tomatoes,
by spring, had been brought to a stand-
still, fried green or cured whole in pickle juice
that could never be washed out of breath or pants.

Then, again, the season of short pants,
fields of Big Boys and Beefsteaks. Cheeks
bright at the thought of fresh-squeezed juice,
my father sharpened sticks to plant under the sun
until my mother pointed him to the local stand.
"Who wants to come with me to buy tomatoes?"

he calls now, loosening his pants. His wife and son
give him the usual cheek, but I stand
with him, just as juiced for tomatoes.
You can find this and other food poems in Brie Season (Kelsay Books, 2014).
JK