Thank you for subscribing to Dishtillery! This is our free end-of-the-month newsletter, focused on seasonal foods. Our issues for paid subscribers, "TILL We Meet Again," "Tidbit," and "The Maker's Mark," will be going out the first, second, and third Friday, respectively, in September. Thanks again for your support. Without you, we wouldn't be able to bring you recipes and recommendations from restaurateurs, chefs, artisans, winemakers, mixologists, and, of course, us! And if you don't already, please do follow us on Instagram / Twitter / Facebook.
DISH: Zucchini Intrusion, Both Blessed and Rude
I may be the only failed zucchini gardener in the history of zucchini gardeners.
Most people can't grow just one zucchini. The Octo-mom of gourd vines, blessed by a holy grail of fertility goddesses, this summer squash variety even has a whole 24 hours devoted to those trying to desperately get rid of the things: National Sneak a Zucchini onto Your Neighbor's Porch Day, which was just celebrated this past August 8.
Plenitude and ease of care are two reasons why you often see zucchini in school gardens (until this year, when many schools went virtual and gardens got defunded). And in chef's gardens, climbing restaurants' trellised walls (until this year, when restaurants became victim to the pandemic and gardens went to seed). And in Victory Gardens (because this year, "our food is fighting," once again).
But when I planted them at my former home, Mango House, I couldn't grow any. Tomatoes? Yes. Peppers? They were everywhere, from bell to bird. I even harvested a couple of ears of corn before the raccoons took down the stalks, and dug up some baby potatoes. Yet while the patty pan yellow squash would reproduce, zucchini would flower and then wither on the vine. I couldn't understand it.
One of the problems may have been that I didn't have raised beds. In South Florida, it's particularly hard to keep your fertile dirt from washing away if you're a hobby farmer planting in your yard without some formal structures. Then, of course, there were the snails – big ones, little one, native ones, invasive ones. It was like a Dr. Seuss story of gory gastropods. They chomped on everything and completely ignored the beer I set out for them, having clearly evolved into teetotalers.
By the following season, though, almost everything started to fail. I finally figured out my personal curse: I had planted my garden too close to a huge avocado tree. The roots were so extensive and invasive that, in the end, the only item left thriving was the lemongrass. And you should probably never plant lemongrass without limiting it in a pot. Like bamboo, it takes over any piece of dirt, becoming a huge, stalky bush – great for warding off mosquitos, by the way, but not so tender. This is something to file in the back of your mind along the lines of "Never get involved in a land war in Asia."
Now in a yard with zero avocado trees – or bamboo or lemongrass (yet), for that matter – I still can't hill my seeds, given that Miami is upside-down world. It's just too hot. But Betsy's garden is producing zucchini apace with the rest of the country's, spitting them out like tokens from a slot machine on a winning spin.
Which begs the question: Just how many zucchini can you cook, eat, and/or give away before family and friends start to disown you?
This is a question I will attempt to answer this winter here in the subtropics. While you deal with your excess now, I've already implanted my recycled trellis – a piece of decorative iron that was my new house's very old front door – in the ground, awaiting the first starts. Feast or fail upward, but I'm ready to sprout again.
JK
DISH: Recipes
I am obsessed. I started making this simple green soup last year when the output from my three zucchini plants outlasted my neighbors' (that's plural) interest in my crop. It was out of control. This year I reduced the planting by a third. And yet I still routinely find a green baseball bat or two hiding under the leaves. Not to worry! I follow this Food & Wine recipe from Chicago chef Grant Achatz to a T – or a Z, if we're being literal. I love it hot or cold.
Feel free to double and triple the amounts. Then pour it into Mason jars and gift it. Funny how the same folks who might turn down a raw zucchini change their minds when the soup's on (although we don't recommend leaving it someone's porch in the heat out of health concerns).
Note: I paired this to-go goodness with an EZ gazpacho. EZ because gazpacho is just a lettuce-free salad puréed into soup, laced with sherry (or alternative) vinegar, and served cold. What's more, you can taste and adjust as you go along. This one started with 4 rather large and meaty tomatoes. Cucumber, peppers, garlic, and onion all bring something to the blender. Sometimes I de-seed and sometimes I don't. Try puréeing the dense veg before the tomatoes. And – of course – you can substitute the cucumber with zucchini.
BK
Sail Away Farro Zucchini Boats
Here is what happens when you have too much zucchini in the house. This recipe offers the advantage of using doctored leftovers from an ambitious farro pilaf side dish the night prior. I'm apparently, ahem, both lazy and parsimonious. Plus, it appears the healthier leftovers remain static unless magically transformed into something new.
The boats are super simple to make. Split the zucchini lengthwise and use a melon baller to scoop out a channel of flesh, leaving 1/8-1/4 inch all the way around. Scrape the interior sides smooth for looks, not taste. A spoon could work, too. Some recipes call for steaming the boat before stuffing and baking. I think that's just an extra step, requires more washing of dishes, and in the end, makes the boat soggy. Instead, I cover the casserole for the first 15 minutes of baking, then remove the foil.
Farro Pilaf
Cook 1 package of farro as directed by package (i.e. boil water with a healthy pinch of salt, add farro. Cook until chewy, but not hard. Save ½ cup water. Drain.)
½ yellow or sweet onion, chopped
1 bell pepper, chopped
2 stalks celery, chopped
2 cloves garlic, chopped
2 tablespoons olive oil
While farro is cooking, in a separate fry pan, sauté the onion, pepper, and celery until soft and fragrant, 5-10 minutes. Add garlic, stirring to avoid burning, for about 2 minutes. Add farro and toss to incorporate everything. Use the saved water 2-3 tablespoons at a time to soften any hard farro and release whatever sticks. Don't worry if you forgot to save water; putting a lid on it will work, too.
Season with salt and pepper if desired.
Farro Stuffing
3 cups prepared farro pilaf
1 14-ounce can fire-roasted, diced tomatoes
4 ounces meltable cheese like Comté or Gruyère, or chopped or crumbled feta
1/3 cup grated Romano or Parmesan (plus more for topping if desired)
In a bowl, combine all ingredients.
Zucchini Boats
Preheat oven to 400 degrees.
Trim the edges and halve lengthwise 3 large or 6 small zucchini. Scoop out the interiors (see above) and save for another use.
Place zucchini in an oil-greased 9x13 baking pan. Fill with farro stuffing* and cover with foil. Bake with foil for 15 minutes.
Remove foil and bake about 30 minutes. Test squash with knife for softness.
Optional: Top with extra Romano. Broil for 1-2 minutes for browning and texture.
Serve and eat.
*Note: Have fun with the filling. It's super flex. Rice could make a great filling base as well.
BK
Not Healthy Fried Zucchini with Tzatziki
It's a mash-up of guilty pleasure. In an effort to match Avra Madison Estiatorio's tower of squash deliciousness, I offer the following tempura style deep-fried zucchini with tzatziki. EVERYONE at the table agreed on the veg for a change.
1 large or 2 medium zucchini
2 tablespoons corn starch
11/3 cups flour
½ teaspoon salt
1 egg yolk
1½ cups club soda
Vegetable oil for frying
Slice zucchini into 1/8-1/4 inch thick rounds by mandolin or knife. Set aside.
In a bowl, whisk dry ingredients together, then add egg yolk and club soda. Whisk to incorporate. Some lumps are ok.
Heat at least an inch of oil to a minimum 350 degrees* in a high-sided pot.**
Drag zucchini both sides in the batter, letting the excess drip, and add to pan until the surface is covered but not crowded. Flip when just past blond or to taste. Drop onto a cookie cooling rack to get rid of excess oil.
Dip into Tzatziki (recipe below) and eat immediately.
*I find the best frying results hover north of 350 but below 375 degrees. Lower than that takes too long and makes for soggy crust, but higher risks unevenness and burning.
**I use vintage Wagner Ware, but steel or a cast-iron skillet would work too. I've tried non-stick and didn't like the results. I also worry about extended heat and wear on that surface.
Tzatziki
1 5-ounce container Greek yogurt
1 garlic clove, minced
1 pickling cucumber, or 5 inches seedless cucumber, shredded and squeezed dry
1 tablespoon lemon juice
Big pinch salt (or more to taste)
Pepper (if desired)
Dill, minced (if desired)
Mix together and chill.
This is delish on anything fried, with pita bread, and as a condiment with lamb and turkey burgers.
BK
TILL: What's Up with Whiskey
When the dog relieves herself on the sidewalk grates of New York's 37th Street during a recent whiskey tasting in front of Fine & Rare, we knew it would be a "special" evening. That's because Tommy Tardie, the owner of this whiskey emporium, has enough humility to pause and acknowledge he simply can't compete for her captive audience. Her mission complete, she moves on. And so does Tardie, explaining a flight of whiskey that travels around the world. This is New York City in a pandemic. Indoor restaurant service is forbidden. But Tardie put his reinvention expertise to use, crafting an outdoor garden on a trafficked midtown Manhattan street to give his fans someplace to go.
If the whiskey world offered Clio awards like advertising does, Tardie would have a stacked top shelf. He has, in fact, gathered plenty of accolades in publications, including Travel + Leisure. After switching careers from advertising and training himself with two prior establishments, Tardie introduced Manhattan's whiskey lovers to The Flatiron Room. There you can find food, jazz, and bottle to match any and every sensibility in an atmosphere crafted to look as though it has evolved throughout history. In reality, it came from Tardie's imagination and desire "to stay true to myself and build a place I enjoy going to."
Later, he expanded his vision to include Fine & Rare. If you've been waiting for The Flatiron Room to re-open, know that Fine & Rare is ready for outdoor service. For those who can't make it to New York, Tardie has some pointers on exploring the whiskey world on your own.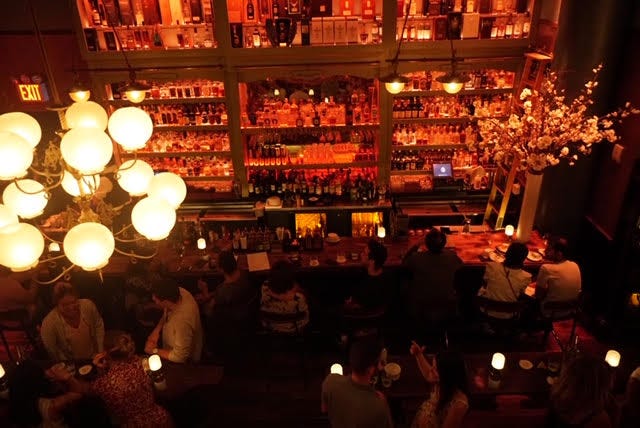 Before tasting any whiskey, address the look and smell of it. Give your glass a swirl. The viscosity in the glass indicates how that whiskey will cling to the side of your mouth. Then, like wine, give it a sniff. Among the fragrances, vanillin is a component that leaches from wood barrels and perfumes the liquor. What is prominent – burnt marshmallow? Butterscotch? Caramel?
If bourbon is your choice, think about how corn adds sweetness. A Scotch may have more or less smokiness, depending on its geography of origin, and if peat is used to dry the barley. When sipping, let the whiskey hit different parts of the palate and consider the lasting flavor, or finish. Alcohol will burn off over time or with a splash of water, says Tardie. Add H2O and it will change the flavor.
Tardie believes the adage, "A whiskey never tastes as good as in the distillery where it's made." That option may be limited for a while until we can travel to origins, but that doesn't mean you can't try some flavors from many corners of the globe. Here are few of his faves to start a well-stocked whiskey bar, coming at you from all over the world.
America: Four Roses, Michter's, Westland, Willett
Scotland: Glendronach, Bunnahabhain, Springbank, Scapa
India: Paul John
Taiwan: Kavalan
Australia: Starward
Ireland: Greenspot
Japan: Nikka
Visit Tommy Tardie at:
https://goodnightgroup.nyc
https://www.fineandrare.nyc
https://www.theflatironroom.com
BK
DISH: Poetry
Canning
The breeze will not cool
heat that comes from inside.
A screened world never smells
like rain, common on the plains
and in prairie towns, or the limestone
floor of a river. What do we build
with our labor when the only
work force is daughters and mothers?

You can find this and other food poems in Brie Season (Kelsay Books, 2014).
JK